"Logicomix" – wielki sukces greckiego komiksu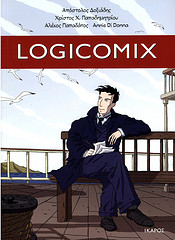 "Logicomix" to napisana przez Apostolosa Doksiadisa oraz Christosa Papadimitriou powieść graficzna, która z humorem i w niezwykle ciekawy sposób opowiada o fundamentalnych dociekaniach w dziedzinie matematyki, którą to starano się zawrzeć w ramach logiki. Treści, wydawałoby się przeznaczone dla wąskiego grona naukowców czy też zapaleńców, wyłożone zostały przez autorów w sposób przejrzysty i przystępny dla każdego, nie posuwając się jednak do zbytnich, a jakże szkodliwych, uproszczeń czy trywializacji zagadnień natury matematycznej jak i filozoficznej.
Powieść oryginalnie napisana w języku angielskim została przetłumaczona na grecki przez jej autora – Apostolisa Doksiadisa, a następnie wydana w listopadzie 2008. Premiera wersji angielskiej przypadła dopiero na 7 września 2009, by wręcz błyskawicznym tempie zacząć podbijać serca czytelników. Już 9 października "Logicomix" wspiął się na pierwsze miejsce listy bestsellerów wydawanej przez New York Times. Doksiadis liczył na pozytywny odbiór, ale sukces, który nastąpił i trwa w dalej, przekroczył jego najśmielsze wyobrażenia.
"Logicomix" powstawał na przestrzeni siedmiu lat. Narratorem powieści jest sam Bertrand Russel, wielki myśliciel, filozof i matematyk. Poprzez historię jego życia czytelnik poznaje wiele innych czołowych postaci nauki XX wieku jak chociażby Ludwiga Wittgensteina – austriackiego filozofa, badacza języka i logiki, czy Alfreda Whiteheada – angielskiego matematyka, fizyka i filozofa.
Powieść graficzna jako osobny gatunek literacki jest dość młoda. Za jej prekursora uznaje się amerykańskiego twórcę komiksów Willa Eisnera.
Dodano: 29/10/2009
Poleć znajomemu Podaj dalej: Wykop Facebook Śledzik Flaker Blip Twitter
Responses are currently closed
Komentarze